Stuff about games. Hints, cheats, free downloads.
---
As above. Another great gaming site.
---

Some good stuff for the kids here.
---

Great site to find out what all the computer jargon means. Also gives you access to a floating pallet which can be used in the chat rooms to decipher "chat parle".
---
Another fun site for the little ones and stuff for 'The big people' who own them....
---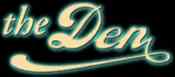 The Dennis Publications website. Some great stuff here. Check it out...
---
Some links to other peoples humorous pages
Planet Wally - Some great stuff here including personality tests..