Sorry for these beanies. Just here for you Martin, my good buddy.

Yeah!!!! Got hundreds of 'em........


---
Matt, loves beer & women (in that order)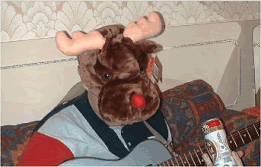 This is a Deer friend of mine... Matt.. If you've ever been in Comic Chat, room #boot3, you could well of chatted to him. As you can see, he really needs to get out more!!!
You can E-mail him (if your a beer or a woman) @ matt@earth-city.freeserve.co.uk
---